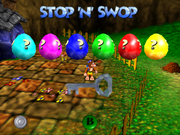 Stop 'N' Swop is the supposed link between the two first installments in the Banjo-Kazooie series. Supposedly, Rare had bypassed the Nintendo 64 lock-out chip, which allowed Banjo and Kazooie to quickly switch cartridges and trade items such as the Eggs and Key. The Key and Eggs has no purpose in original Banjo-Kazooie on Nintendo 64, but it had in its port, Banjo-Kazooie for Xbox Live Arcade. As revealed in Banjo-Tooie, the Pink Secret Egg contains a technique called the Breegull Bash and the Ice Key can unlock the safe inside the glacier. The Yellow Secret Egg contains Jinjo as a multiplayer character.
Items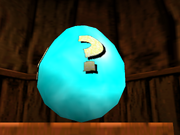 The Secret Eggs all have four question marks on four sides. In order to unlock the items the player should type cheats in Sandcastle level of Treasure Trove Cove. If the player makes a mistake, Banjo should exit Sandcastle and enter it again.
| | |
| --- | --- |
| Ice Key: | CHEAT NOW YOU CAN SEE A NICE ICE KEY WHICH YOU CAN HAVE FOR FREE |
| Cyan Secret Egg: | CHEAT DON'T YOU GO AND TELL HER ABOUT THE SECRET IN HER CELLAR |
| Pink Secret Egg: | CHEAT OUT OF THE SEA IT RISES TO REVEAL MORE SECRET PRIZES |
| Blue Secret Egg: | CHEAT A DESERT DOOR OPENS WIDE ANCIENT SECRETS WAIT INSIDE |
| Green Secret Egg: | CHEAT AMIDST THE HAUNTED GLOOM A SECRET IN THE BATHROOM |
| Red Secret Egg: | CHEAT THIS SECRET YOU'LL BE GRABBIN IN THE CAPTAINS CABIN |
| Yellow Secret Egg: | CHEAT NOW BANJO WILL BE ABLE TO SEE IT ON NABNUTS TABLE |
After each cheat, the player will see where the Egg/Key located.
Locations
Community content is available under
CC-BY-SA
unless otherwise noted.