We're Getting Mutants in the MCU - The Loop
Play Sound
"Buff you, ***hole!"
—Haybot
The Haybot is a large cybernetic haystack encountered by Conker in Conker's Bad Fur Day and its remake, Conker: Live & Reloaded, during the chapter Barn Boys. It is a large haystack that appears after Conker hangs Franky from a rope. Conker reenters the barn only to find the Haybot. Conker frees Franky and rides on him to fight the Haybot.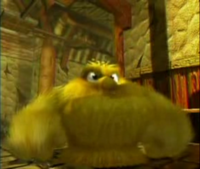 After the Haybot catches fire from being hit by Franky, it's revealed that it is, in fact, a robot. Conker and Franky continue to fight him, eventually falling down into an underground sewer area. The Haybot assaults them with "Suzie 9mm" missles, but is destroyed when Conker hits a "Do Not Push" button on the Haybot's back with Franky's help.
Trivia
The Haybot is possibly a reference to the Terminator series of movies, as he speaks with a Austrian accent like Arnold Schwarzenegger and, when defeated the first time by Conker and Franky, is revealed to be a large robot underneath the hay.